Our Address/Directions
GPS Address: 901 N. Dupont St; Wilmington, DE 19805 (Intersections: W. 9th or W. 10th St @ N. DuPont or N. Lincoln St.)
Email: festival@stanthonynet.org  Facebook: facebook.com/stanthonysfestival  Twitter: @stanthonyswilm  Phone: 302.421.2790
Free Secure Parking at Salesianum School
Continuous shuttle service between Salesianum School and the Festival grounds (10th & DuPont Streets) from 1 hour prior to opening through 30 minutes after closing daily.
We Welcome Group Trips & Tours!
The Festival features convenient bus group drop-off and pickup at 10th & Scott Streets, with convenient and secure bus parking available at our secure off-site parking at Salesianum School.
Please contact the Festival office via email to inform us of your planned trip.
Festival On-Site Policies
The Festival is no-smoking event
Service animals are permitted on-site
NEW: Italian Festival Apparel!
NEW for 2022: Stylish, high quality clothing items, produced by Stitch In Time.  Order securely below for pickup at the Festival at the Stitch in Time stand near W. 9th & N. Scott St. near St. Anthony's Grade School.
Italian Festival T-Shirt: Youth & Adult Small/Medium/Large/Extra Large: $18.00 & Adult 2XL/3XL: $20.00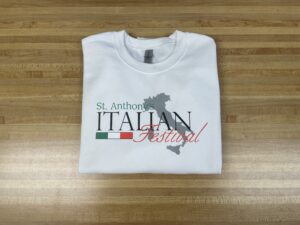 Italian Festival Crew Neck Sweatshirt: Youth & Adult Small/Medium/Large/Extra Large: $21.00 & Adult 2XL/3XL: $23.00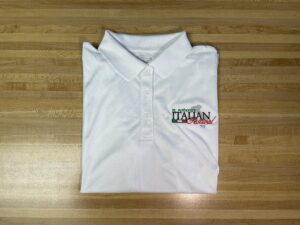 Italian Festival Polo Shirt: Adult Small/Medium/Large/Extra Large: $22.00 & Adult 2XL/3XL: $24.00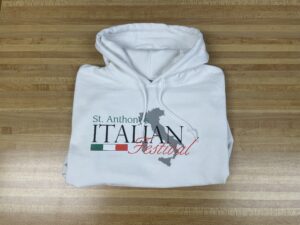 Italian Festival Hooded Sweatshirt: Youth & Adult Small/Medium/Large/Extra Large: $27.00 & Adult 2XL/3XL: $29.00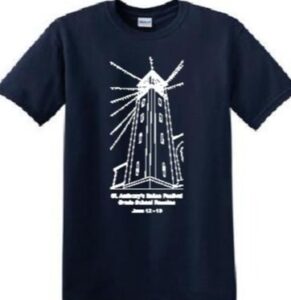 Grade School Reunion T-Shirt: Adult Small/Medium/Large/Extra Large: $16.00 & Adult 2XL/3XL: $18.00