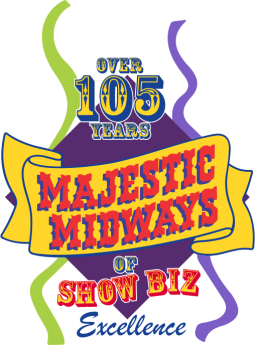 Enjoy one of the largest selection of amusement rides on the entire East Coast.  Majestic Midways, multi-generational, family-owned business, is committed to a high-quality operation, focused on providing a safe and fun experience, featuring a unique selection of amusement rides crafted by the world's leading manufacturers.
NOTE: MIDWAY RIDES AND GAMES ON SITE THROUGH SATURDAY, 6/18/2022
**NEW for 2022: Moving to the cashless Magic Money system.  Riders will purchase a stored value card or phone app to pay for ride and games..  Safe, convenient, and secure!**
Learn more below & at: www.majesticmidways.com
Steps for a patron:
~Usage of Magic Money~  Purchase credits using cash or credit card at the self-serve kiosk or the Magic Money app (available in the iOS & Android app stores: search for Magic Money-Pay and Play).  Redeem purchased credits for individual rides, participating games, and food items from the Cotton Candy trailer.
Patron steps up to the kiosk and follows the instructions on the screen.  Or purchase credits through the Magic Money app.
After purchasing credits, patrons shows card or phone to ride, food or game operator.  The operator will scan their card or phone app with their hand held.  It will deduct the appropriate amount of credits for that ride, game or food purchase.
*There is a one-time $2 per new card fee*
~ If you are paying by credit card, the $2 will be added to your transaction.
~ If you are paying by cash, the kiosk automatically deducts the $2 fee/with 8 credits remaining from the amount of cash inserted.  Make sure you insert enough cash to cover your credits and the $2 fee.
-Children's rides range from 13-17 credits per ride, and adult rides range from 18-24 credits per ride
-EARLY BIRD SPECIAL: Monday, 6/13-Thursday, 6/16. 6-7PM ONLY: Rides are discounted 4 credits!
PLEASE NOTE:
Magic Money cards and the Magic Money app may ONLY  be used at the Midway for games and rides.  Use Italian Festival Gift Cards and Italian Festival Money Cards at all other Festival venues using the Point of Sale (POS) system.  Click here for more info on these card options.
Please retain your Magic Money cards for next year.  Unused value on cards will carry over for use at next year's Italian Festival.
MAGIC MONEY CARDS (FORMERLY ADVANCE RIDE TICKETS): A LIMITED NUMBER of cards will be available for $30.00 (50% off of the on-site cost of $60.00) beginning the week of 5/8/2022.  Buy early and SAVE!  Each card is pre-loaded with 240 credits. Cards are available:
at St. Anthony's rectory [901 N. Dupont St; Wilm: DE 19805]: 9AM-3PM Monday-Friday; Monday-Thursday 5:30PM-8PM
at St. Anthony's Grade School office [1715 W. 9th St; Wilm; DE 19805]: 7:30AM-6PM Monday-Friday
with Grade School Home & School Association gift card sales